I LOVE Summer! Playing in the sprinklers, wearing flip flops, getting a suntan, family vacations, barbecues and ice cream cones. Summertime rocks!
Let's celebrate summer with a summertime swap!
Here's how to participate:
If you haven't already, enroll in Swaperoos Group by paying the $5 membership fee (1 Year Membership), go here for details or click on the Paypal option on the right.

Email me (Make sure you spell my name right with "i" before "r"!)


Give me your postal address and tell me 5 things you love about summer or anything that you want your swap partner to know about you so she can customize their gift to your needs/family size/particular likes. Even if you have been a member from the very beginning, please do this so I can keep you all sorted out!

Here are the rules. Please do not sign up if you will not be able to commit to sending your package on time. Dates are not suggestions, they are deadlines! Once you become a member of swaperoos swap group, you will receive access to our blog as a publisher. You must post a sneak peek to your partner and a thank you to the person who sent you a package. We want to see what goodies are being created and sent!!
Comment here by Friday, May 27 to join. Email me your 5 things and make sure your swap membership is current.
I will pair you with your swap partner on Saturday, May 28.
Create or buy your favorite summer items, (totaling about $15) package them up and send them to your swap partner by June 10. This gives you 2 weeks to gather your gifts! PLEASE HAVE YOUR PACKAGE POST MARKED ON OR BEFORE Friday, June 10th.
Receive your new summer goodies and enjoy!!
**I need your help in promoting this swap!! Grab the button or copy the banner, post about it on your blog or facebook and share pictures of your gift when you receive it! When you become a member of Swaperoos, you will have access to this blog to post sneak peaks and thank yous to your swap partner! Please share with me any suggestions you may have along the way.**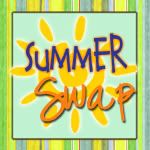 Copy this code onto your blog!